Carpenter Bee Control
Carpenter Bee Control CT. Carpenter bees are 3/4 to 1 inch long and closely resemble bumble bees except that their abdomen is a shiny metallic greenish-black; whereas, the abdomen of bumble bees is very hairy. These insects sometimes build their nests in solid wood such as weather boarding, railings, supports, and trim of buildings. Their nests are in the form of tunnels 3 to 6 inches deep in the wood. The entrance hole is about 1/2 inch in diameter. The holes are very clean and appear as though they were made by a drill. Damage to wood is seldom extensive throughout Connecticut.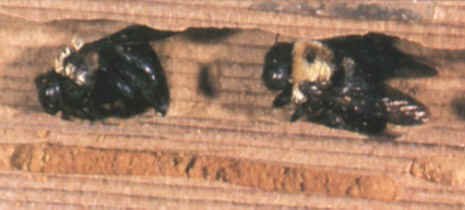 CREDITS: Paul M. Choate, University of Florida Figure 9. Adult carpenter bee, Xylocopa
Carpenter Bee Control Connecticut
CT Carpenter bees can be controlled by removing and replacing infested wood. Painting, staining, or filling holes with putty does not usually prevent the bees from digging a new tunnel.
Insecticides can be used to treat areas of wood where carpenter bees are active. A dust type insecticide is used to treat the carpenter bee holes. As the female enters the hole she will drag the dust into the nest and kill all the larvae, or there will be dust still there and active to kill any emerging juvenile carpenter bees, months later.
Copyright Information
This document is copyrighted by the University of Florida, Institute of Food and Agricultural Sciences (UF/IFAS) for the people of the State of Florida. UF/IFAS retains all rights under all conventions, but permits free reproduction by all agents and offices of the Cooperative Extension Service and the people of the State of Florida. Permission is granted to others to use these materials in part or in full for educational purposes, provided that full credit is given to the UF/IFAS, citing the publication, its source, and date of publication. 11/29/04.
Call our bee control CT specialists today to schedule an appointment 888-558-1574.